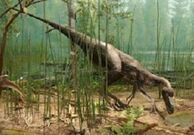 Bagaraatan (meaning "small hunter" in Mongolian) was a genus of theropod dinosaur from the Late Cretaceous period. Its fossils were found in the Nemegt Formation of Mongolia. Bagaraatan may have been around 3-4 meters in length.
The type species, B. ostromi, was described by Osmolska in 1996. The post-cranial (ZPAL MgD-I/108) skeleton has been described as "bird-like", while the skull exhibits features of several different theropod groups. Holtz classified it as a basal tyrannosauroid, Coria identified it as a troodontid, and Rauhut placed it in maniraptora.
Community content is available under
CC-BY-SA
unless otherwise noted.